Dilophosaurus

Kingdom

Animalia

Phylum

Chordata

Class

Order

Clade

Family

Dilophosauridae

Genera
Dilophosauridae is a family of early theropod dinosaurs. They are well-known for their distinctive head crests, which were probably used for mating displays, or to intimidate rivals. The family was created by Alan Charig and Andrew Milner in 1990 to contain only the type genus, Dilophosaurus. Other genera, such as Zupaysaurus and Dracovenator, have since been assigned to this family. Dilophosaurids may be early ceratosaurs; however they may have in fact been more primitive basal theropods like Eoraptor, Herrerasaurus, and Coelophysis.
Evolution
Edit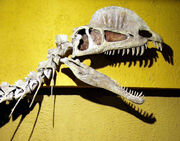 The dilophosaurids likely evolved from a primitive theropod related to
Coelophysis
or perhaps
Herrerasaurus
. The earliest dilophosaurid genus was
Dracovenator
, from the Late Triassic to the Early Jurassic. Most dilophosaurids, like
Dilophosaurus
itself, date from the Early Jurassic period, around 200 million years ago. They were the dominant predators of their time, and would have been the top predators on Earth. The dilophosaurids were very successful predators, and contained the largest theropods up until the Late Jurassic. In the Middle Jurassic, around 170 million years ago, the dilophosaurids went into rapid decline until they became extinct around 160 million years ago. The were "Replaced" by the allosaurids and the sinraptorids, their possible descendants.
Community content is available under
CC-BY-SA
unless otherwise noted.